It's Monday night (I should be in bed) and I've actually had the computer to myself this evening! This is the first time in ages that I've had the computer entirely to myself, because Mr Froggy* is in Helsinki. The last time this phenomena happened was probably for the same reason as tonight.
Even if I have the joy of computing in peace, I still miss Mr. Froggy.
Hugs and kisses to my guy. I hope your day was decent and you sleep well.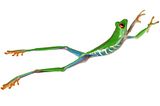 *Mr Froggy is the name one of the PostCrossing people gave my husband and it works quite well considering I love frogs and am a Mrs.